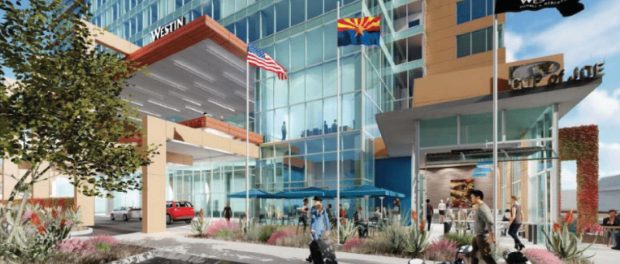 By Roland Murphy for Arizona Builder's Exchange
Tempe's Development Review Commission will consider plans for a new 18-story Westin Hotel at 11 E. 7th St. at its Sept. 26th meeting.
The project will feature between 260-290 rooms, 1,800SF of retail space, 1,400SF of restaurant and 12KSF of conference area. The total planned building area is nearly 277KSF on 0.85 acres.
Owner/developer CAI Investments, LLC has requested an Amended Planned Area Development and Development Plan Review for the luxury hotel.
The address, east of Mill Avenue and north of University Drive, had been previously planned for The Standard at Tempe, a 26-story 582KSF mixed-use site with 355 student housing units. The city council rejected plans for that project in June of last year.
The north side of the Westin will have a predominantly glass face to visually connect it with surrounding developments. The upper levels will have a decorative "fin" on the northeast side and a lighted fabric canopy to shelter the pool area.
The south elevation has a dark masonry veneer with lighter masonry elements on the columns. Levels 3-18 will be predominantly stucco and feature canopied windows on the west end.
On the west side of the building, the upper floors include glazing that wraps from the north, as well as a band of red stucco forming a tower along the SWC. The stucco color is intended to tie in with the red brick along Mill.
According to the project description submitted to the city, "Westin Tempe's design integrates the pedestrian environment, vertical building elements, and landscape design to create an urban resort destination for downtown Tempe. The guestroom tower rises above a pedestrian-scale base and enhanced streetscape in response to three critical design scales, the Urban City, Urban Streetscape, and Human scales."
Barring any complications or delays in the approval process, the developer will start construction shortly after receiving final approval from city council, which could be as early as this November, according to the timeline provided in the DRC packet. According to a representative of CAI Investments, the targeted completion date is June, 2019.
source: https://azbex.com/290-room-westin-planned-for-tempe/